The final expression of our landmark A New Song For Bristol project has been unveiled.
The 42ft artwork that has been installed on the glass front of our building, created by Bristol artist Parys Gardener, takes inspiration from the stories and artistic work submitted to the project.
We launched A New Song for Bristol in 2020 calling on the public to convey their experiences of living in Bristol during the pandemic through words and music.
We received hundreds of entries from Bristolians of all ages, communities, and backgrounds, from poetry and letters to fully fledged songs and music videos, spanning a huge range of experiences, topics and emotions. The result was a string of collaborations between local artists and members of Bristol communities.
These pieces have now inspired the huge artwork which has been applied to the glass frontage of the distinctive Bristol Beacon foyer building and will be in place for Autumn.
I was visualising the stories I was being told. A lot of the pieces were vulnerable, and some were heavy and raw, so it was a real challenge and responsibility to find the joy, whilst recognising people's real lived experience in what was a difficult time.

Artist Parys Gardener
The A New Song for Bristol project has brought about collaborations with a diverse range of Bristol artists and collectives, including Kayla Painter and KALA CHNG, This is the Kit and Bucky, Lady Nade, Javeon, Grove, and composer, musician and associate director of Paraorchestra, Lloyd Coleman.
Lady Nade created a piece called Bristol Is Our Playground with members of Mini Singers, Bristol Beacon's choir for Key Stage 1 Children, while Grove wrote 'Lockdown Riddim' in collaboration with members of Hope Creative, Bristol Beacon's creative programme for children in care.
Community Engagement Manager, Julia Roderick said:
"This project is the first major artistic expression of Bristol Beacon's Transformation promise, we announced alongside our renaming in September 2020, which sets out how Bristol Beacon strives to be a symbol of hope and community for everyone.
"Last year marked the beginning of an extraordinary time for the whole world, but during this difficulty, people also rediscovered their sense of community, forged new ways of connecting, and renewed their collective spirit. That is what we want to celebrate in this project."
The variety of contributions reflections on the pandemic, while several explored themes surrounding 2020's Black Lives Matter demonstrations and the toppling of the Colston statue.
Cathy Mager, Creative Producer of Bristol Beacon's Lantern Project, said:
"From this project and with this huge artwork, we wanted to encourage everyone to express themselves through words, music or song and to share their experiences, ignite the fire of creativity in everyone and draw the city closer.
"A New Song for Bristol is inspired by Bristol Beacon's long history of being a place for local communities to voice their views of the world and make music together. When you read about how the city was locked down at the outbreak of World War II and the entertainment ban, the parallels are striking between then and now. It was heartening to learn about how the venue and its team played such an important role in raising morale."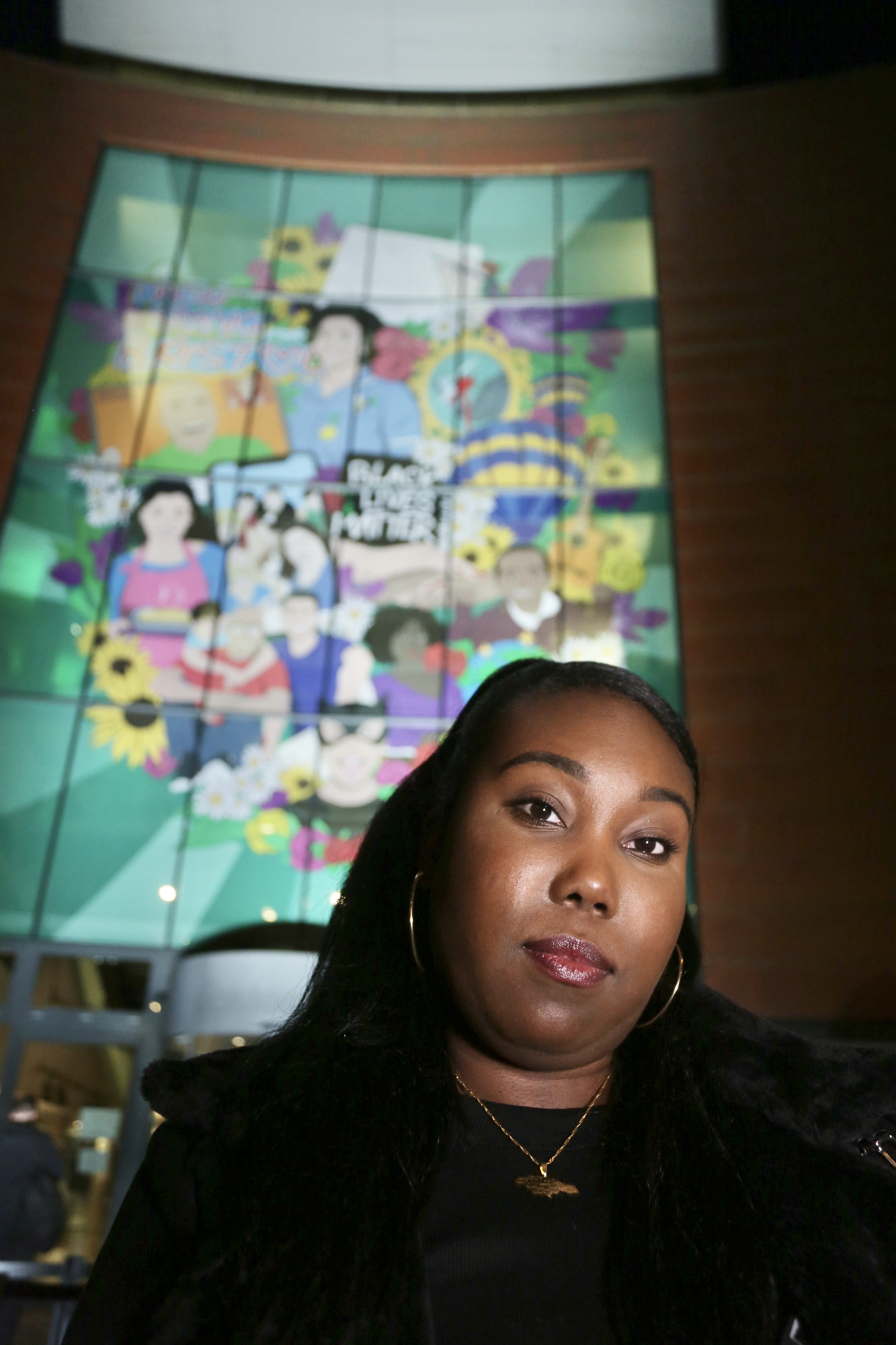 Artist Parys Gardener
Parys Gardener is a multi-award-winning contemporary digital illustrator from Bristol whose passion derives from creating artwork that authenticity represents the world around her – particularly empowering women of colour to feel seen and heard in a range of narratives.
She creates memorable work, described as pop art with a modern edge. Her visual vocabulary explores pop art techniques utilising block colour, tone and pattern in an engaging way. Parys's work has been commissioned for a collaborative project with Banksy, and her first solo exhibition was in Copenhagen in 2018/2019.
She has been commissioned by brands such as Nike, Footlocker, Facebook, BBC, Gal-dem and more to create editorial and marketing visual material. Parys is a featured artist at Rising Arts Agency and sits on the board of trustees at Watershed.
She is also an advocate of paid work for young creatives. Outside of her visual practice, she frequently sits on panels, speaking on subjects such as her journey through the education system and the building of a brand both online and in real life. A nominee for a Rise Award 'Young Entrepreneur of the Year' 2019 and in 2019, Parys became the recipient of the Precious Lifestyle Award for Visual Artist of the Year.
Explore the public submissions
All of the commissioned songs, along with the public submissions, can now be explored on a special website that has been created to celebrate the project.